Different Strengths of Rogue Nicotine Products
People have different preferences regarding the nicotine strengths they enjoy. And ultimately, it can take a few tries to find the strength that best suits you. Rogue offers adults a selection of products with ideal nicotine levels for everyone, so you can have nicotine satisfaction on-demand.
Below is a list of every Rogue product along with their nicotine strengths:
Pouches: Offered in 6mg and 3mg options
Lozenges: Offered in 4mg and 2mg options
Gum: Offered in 4mg and 2mg options
Tablets: Offered in 4mg and 2mg options
How to Choose Your Nicotine Strength
Several factors can influence which nicotine strength you select for your Rogue product.
If you've never tried the tobacco leaf-free nicotine products, we recommend that you start with a 3mg nicotine strength for Rogue Pouches or a 2mg nicotine strength for Rogue Lozenges, Gum, and Tablets. It's better to start small and see if a lower nicotine strength provides the desired experience before trying Rogue's higher strength offerings, if you so choose.
The situations you utilize nicotine for can be a great indicator of which nicotine strength you should select for your favorite Rogue product. If you find yourself in a drawn-out work meeting or traffic that seems incapable of moving, a higher nicotine strength can serve you well. Quick nicotine enjoyment that's more casual can call for a lower dose. Of course, your personal preference may vary.
Popular Lower Strength Rogue Nicotine Products
Get started with some of the low strength fan favorites in 3mg and 2mg nicotine options.
Popular Higher Strength Rogue Nicotine Products
Been around the block a few times and know you prefer a higher nicotine content? Go right for our stronger products including 6mg nicotine pouches and 4mg gum.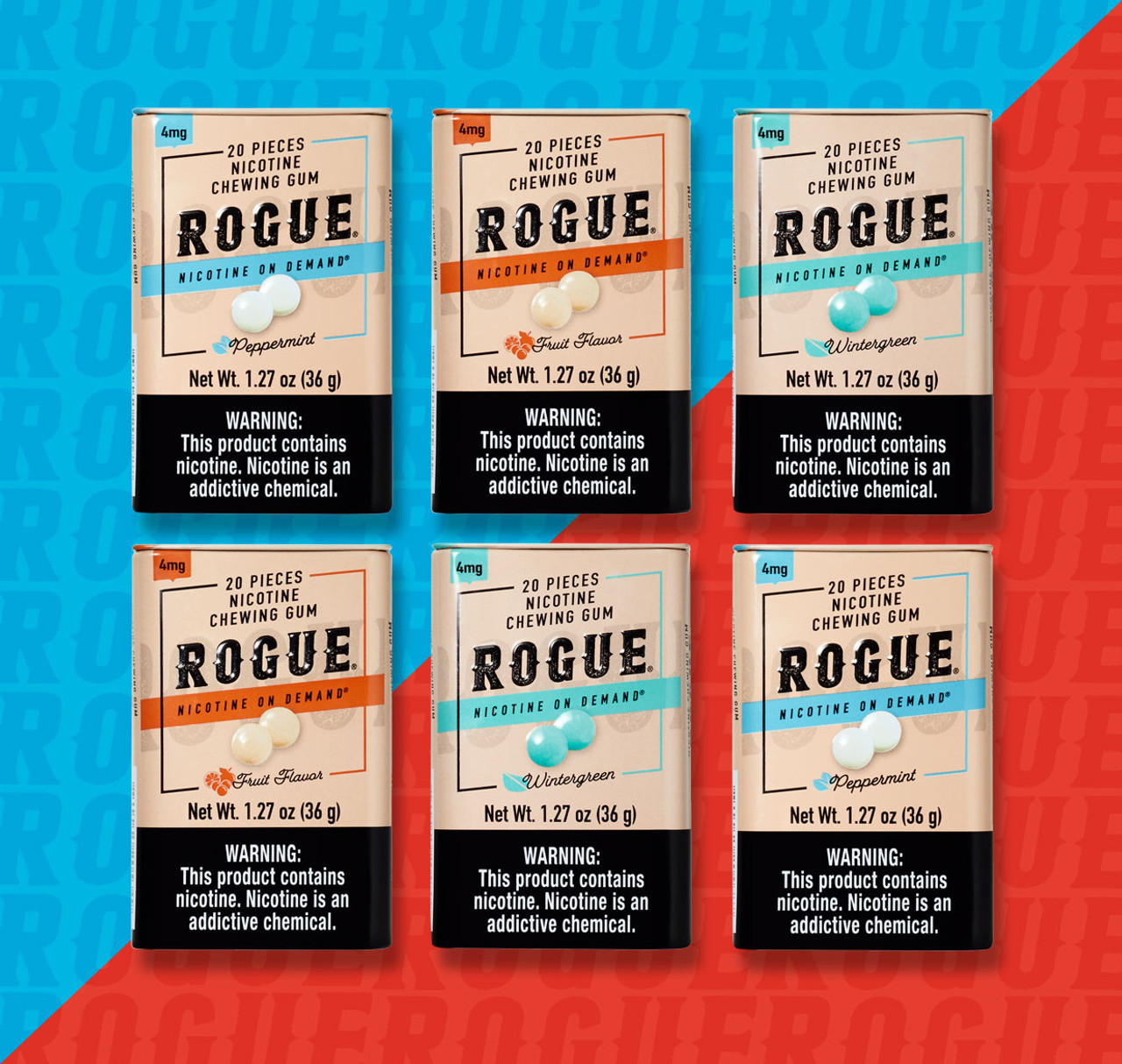 How Rogue's Nicotine Strengths Provide Satisfaction
Every Rogue product is a forward-thinking tobacco leaf-free nicotine alternative to traditional tobacco products. More and more people have a desire to rewrite the rules of nicotine enjoyment. Traditional tobacco products like cigarettes often come with a stigma. You should have the freedom to be yourself as an adult and enjoy nicotine whenever and wherever you please.
With whichever nicotine strength you select, all Rogue products are spit-free, stain-free, and smell-free. Go Rogue so you can get everything that traditional tobacco products offer in a cleaner, more low-key manner. We offer various flavors for every Rogue product, so you can receive an enjoyable burst of flavor with your nicotine kick.
Pouches: Wintergreen, Peppermint, Honey-Lemon, Mango
Lozenges: Wintergreen, Peppermint, Citrus
Gum: Wintergreen, Peppermint, Fruit
Tablets: Wintergreen, Peppermint, Berry
Rogue allows you to go above and beyond when customizing your tobacco leaf-free nicotine needs as each of our products contains different nicotine release styles. You can enjoy Rogue Pouches for up to an hour, experience a slower 8-10-minute nicotine release with Rogue Lozenges, chew a piece of Rogue Gum for up to 30 minutes, or experience the fast-acting three-minute release of Rogue Tablets.
Part of Rogue's mission of providing adults with accessible nicotine includes making Rogue products as easy as possible to buy.
How to Buy Rogue Nicotine Products of All Strengths
Searching for retailers that sell Rogue Nicotine products near you is simple when you utilize our interactive Where to Buy tool.
The convenience doesn't end here.
We understand that regular store runs for nicotine can get tiring. Rogue's online store aims to take the stress out of buying nicotine by shipping your favorite nicotine products right to your doorstep. Take advantage of the online ordering perks we offer by starting a Rogue subscription. Save 10% on your order and receive fast and free shipping. If you're looking to explore the world of Rogue, check out our Mix Packs that help you discover the right Rogue product and strength option for you.