We know that travel, especially air travel, can be super intimidating, and you may want to be able to bring and use Rogue Nicotine while you're at the airport or in the air. Well there's good news. For the most part, you can.
General Rules & Overview
Long story short, TSA allows you to bring nicotine gum, lozenges, pouches, and tablets, either in their original packaging or otherwise, through security.
You can take it in either your checked bag or keep it with you in your carry-on bag. This includes international travel as well. Just double check that your country of destination allows the specific nicotine products you're hoping to bring with you.
See Twitter dialogue below: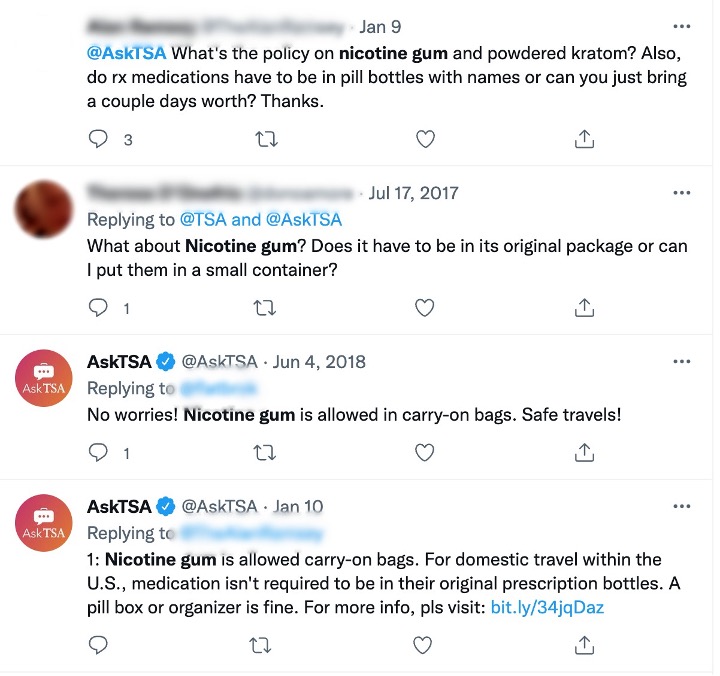 Similarly, here's a reference regarding flying internationally.
Note, if the nicotine you plan on bringing with you is in liquid form, it is subject to the same 3.4 fluid ounce regulation as other liquids.
So, Can I use it?
Probably. There are no TSA restrictions on smoke-free nicotine products, but you should check with your airline before busting them out. You can bring them with you as we've mentioned according to TSA guidelines, but just make sure your airline is on the same page.
Packing Tips for Short & Long Flights
You can pack any Rogue products of ours either in your carry on or checked bag. For longer flights, a pack of Rogue nicotine gum may be your best choice to keep you going the whole flight. Just one piece of gum has a 30-minute release.
Benefits of Rogue
Rogue Nicotine products have a lot of benefits compared to our competitors. Our products taste great but are actually also sugar free. They're also gluten free and made in the USA with domestic and imported ingredients. Beyond all this, our products are extremely portable and easy to travel with.
Moral of the story
While you shouldn't have any problems traveling with Rogue nicotine products, note that you're always at the discretion of the TSA.
Regardless, Rogue products are never too far away. Need gum or pouches before your next big trip? visit our website now and get yours while supplies last!